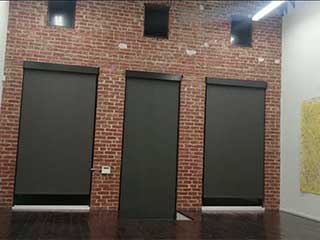 Make sure you and your family are getting proper sleep with room darkening window treatments! Blackout blinds are made to block any outside light from coming in, even around the outside of the blinds themselves. This provides many advantages to your Cupertino residence, or your business space as well! With our free consultations and estimates, you'll soon be on your way to brand-new, lovely blackout window coverings in no time! Find out the benefits of choosing this style below:
Affordable Blackout Blinds for Doors and Skylights
Did you know that leaving your sliding glass door uncovered can cause a huge waste in energy spending? Due to how wide they are, these doors let in a lot of direct sunlight, and this heats up your home unnecessarily in the summer and allows heat to escape in the winter. It also creates a privacy issue, allowing anyone to see inside. You can change that with our blackout blinds! Not only will they keep out the sun when you don't need it, but it'll keep out unwanted eyes as well. Skylights can also be a source of unnecessary energy loss, but we have blackout window coverings for them as well. With our excellent range of prices, anyone near the Cupertino area can get custom blackout blinds made at a low cost.
Blackout Blinds on Your Cupertino Bedroom Windows
One of the most beneficial places for blackout blinds is on bedroom windows. Not only for adults but for kids as well! Sleep is important for adults and children alike, and bright streetlamps or lights from passing cars can hamper its effectiveness. However, with blackout window treatments, this will no longer be an issue! Everyone will be able to rest more easily without interruption, including keeping out early sunrises from disturbing you. They're also great for allowing naps during the day, for little ones, and for you as well!
Offices Can Benefit from Blackout Blinds Too
Offices and businesses overall are likely to have many screens, from computers to TVs, and will want to have them unhindered by glare. Not only is glare distracting, but it can harm eyesight if people are forced to work with sunlight glare for long periods of time. However, with blackout blinds, this won't be a problem any longer! They also will make meetings completely dark to easily share presentations, along with providing privacy as needed for boardrooms and private offices alike.
Top-Quality Motorized Blackout Blinds in Cupertino
Motorized blackout blinds will smooth out your already packed lifestyle by making it so much easier to adjust your home's window treatments! Wall sensors can be added that will open or close your blackout window coverings according to how much light you want allowed in, even when you're not home! Or, you can put an app on a smartphone or tablet to be in complete control, wherever you are. No more needing to get back up to close the blinds when you're already cozy in bed, or fiddling with manual strings! Cupertino Blinds & Shades services all nearby parts of the Bay Area. Give us a call to find out more with a free in-person consultation and estimate.