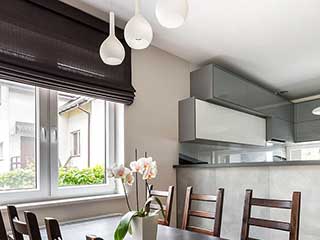 When you want some soft, elegant décor for your windows or doorways, Roman shades are a great choice. Here at Cupertino Blinds & Shades, we design our own custom window coverings to your specifications. This includes affordable, long-lasting Roman shades. Any style and colors you want, we can craft with a combination of blackout and sheer fabrics and cordless or motorized controls. So, what are Roman shades anyway? Put simply, Roman shades are fabric window coverings that fold up into rippling pleats when you raise them using hidden panels and strings. They're lovely to look at, low maintenance, and a credit to any room in any Cupertino house!
The Benefits Of Roman Shades
The number one reason to install some Roman shades is for the beauty they add to the environment. This is even truer when you can artfully combine them with other window treatments. Roman shades and curtains, for example, are famous as an ornate combination. These Roman-style coverings also go well with valences, solar shades, and cellular shades. Because of the way they fold up when raised, Roman shades need a little space at the top of the windowpane even when open. This means that taller windows are the best recipients for Roman shades. These shades also make good coverings for doorways. Roman shades for French doors, in particular, are popular for a reason!
Pleated Window Shades For Any Room
If you're treating some bedroom or living room windows, you might want some thick, dark-colored blackout Roman shades. The room darkening shading will provide a lot of utility. When picking out Roman shades for kitchens and dining rooms, you might prefer thinner, less absorbent fabric, and lighter colors or festive patterns. Many people wouldn't think of it, but Roman shades in bathroom windows work well; it just takes a large, airy bathroom, and some white fabric. If your Cupertino property has a deck or patio, Roman shades and sliding doors make a fantastic combination as well. Most rooms can find a use for Roman coverings if you just apply some creativity and taste!
Custom Roman Shades For Your Cupertino Windows
Color and material type are two of the choices you get to make with Cupertino Blinds & Shades's custom products. There are also plenty of others, though! You can choose patterns and pleat styles, as well as extra details like slits, tassels, and embroidery. If you want a more organic looking window treatment, try using some relaxed Roman shades instead of the standard, flat ones. Relaxed Roman shades have a curved trailing edge that hangs downward in the middle of the window, giving them a whole different effect. Add lace or cloth trim to the edges of your Roman shades, or have us install some valences to frame them. Whatever you decide on, Cupertino Blinds & Shades will build it, deliver it, and install it!
Extra Roman Shade Features And Control Systems
With our magnetic Roman shades, you'll have a child-safe alternative to cords and strings. Or, if you decide to go even more modern, we can install a set of our motorized Roman shades in your home or business. Motorized shades are just as child-friendly, and also much more convenient. With the addition of timer or photosensor equipment, your motorized shades can even be "smart' enough to open and close themselves when appropriate. These computerized shades are more than just a convenience. By remembering to adjust themselves even when you forget, they can save you money on heating, cooling, and furniture repair.
Arrange a Free in-person Consultation
Our experts here at Cupertino Blinds & Shades will be happy to help you pick out the best window coverings for your office or home. Once you have your free quote and the custom design of the new Roman shades (or other covers), we'll get started with the production. If you want to see us installing your new products soon, then there's no reason to wait. Call us today to book a free estimate!