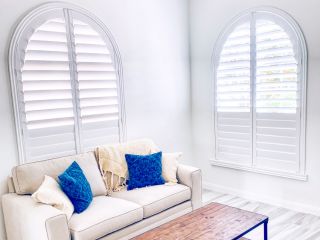 Welcome to Cupertino Blinds & Shades, your premier destination for exquisite plantation shutters and cutting-edge motorization solutions. We're your trusted partners for enhancing the elegance and functionality of your windows. Discover the world of Cupertino Blinds & Shades and revolutionize the way you experience window treatments.
Why Choose Plantation Shutters from Cupertino Blinds & Shades?
At Cupertino Blinds & Shades, we take pride in offering top-tier products and services that are bound to elevate your interior and exterior spaces. Our plantation shutters are a testament to this commitment, and here's why they are the ideal choice for your home or business:
Timeless Elegance and Versatility:
Plantation shutters are known for their classic, timeless appeal. They effortlessly complement various interior styles, from traditional to modern, and even blend seamlessly with your outdoor settings.
Light Control and Privacy:
With adjustable louvers, you have full control over the amount of natural light entering your space. Enjoy unparalleled privacy while still letting in the perfect amount of sunshine.
Durability and Longevity:
Our plantation shutters are crafted using high-quality materials, ensuring they withstand the test of time and harsh weather conditions for both indoor and outdoor applications.
Energy Efficiency:
Plantation shutters act as insulators, helping to maintain the temperature in your living spaces, which can lead to energy savings.
Easy Maintenance:
These shutters are a breeze to clean, making them a practical choice for busy homeowners.
Motorization with Somfy and Lutron
Cupertino Blinds & Shades takes window treatments to the next level with state-of-the-art motorization solutions from top brands, Somfy and Lutron. With motorization, you can effortlessly control your plantation shutters, blinds, and shades with just a touch of a button. Enjoy the convenience of adjusting your window treatments to suit your preferences, no matter the time of day.
What We Offer:
Free Consultation: Our experts are here to guide you through the selection process and help you make the best choices for your space.
Professional Installation: Leave the installation to us. Our team ensures a seamless and efficient setup for your window treatments.
Repairs and Maintenance: We're here to keep your window treatments in tip-top shape, ensuring they function flawlessly for years to come.
Making Informed Choices
We understand that choosing the right window treatments can be a daunting task. At Cupertino Blinds & Shades, we offer a wealth of information to assist you in making informed decisions. Whether you're seeking inspiration or need guidance on window treatment ideas, we've got you covered. With our extensive selection of quality blinds and shutters, you're sure to find the perfect fit for your commercial or residential space, indoors or outdoors.
Contact Us Today
For plantation shutters, motorization, and a wide range of window treatment options, Cupertino Blinds & Shades is your go-to source. Let us transform your space with style and functionality. Book your free consultation today to discover the perfect window solutions for your Cupertino home or business.