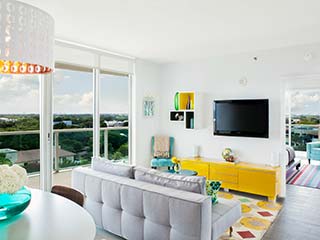 Lutron smart motorized window coverings offer you a range of benefits, including both decorative and functional advantages. These systems are highly efficient and make it easy to optimize energy usage at your property. Lutron shades utilize the most modern technology, combined with top-quality materials and designs, to bring you the best of both sides. When you install wireless Lutron shades in Cupertino offices, houses, apartments, or other properties, window coverings motorized with remote control capabilities make your indoor environment a lot more comfortable. Businesses and homes area stand to gain from these coverings.
The Benefits Of Lutron Motorized Shades
Outdated manual window coverings leave a lot to be desired, and we think that our customers will always benefit by upgrading to high-quality modern automatic shades. Although the price can be a little higher to start with, inevitably it's a price worth paying. Thanks to the cost-saving efficiencies of motorized Lutron shades, the long-term cost is actually lower anyway. Your new automatic shades will be in the right position all day long so that your home stays at a comfortable temperature and brightness level without any hassle. Your property, whether it's a home or business, will feel more comfortable and be cheaper to climate control.
Bedrooms Benefit From Blackout Lutron Shades
It's impossible to sleep well if you can't keep unwanted sunlight out of your bedroom. That's what makes blackout Lutron shades such a common choice when it comes to bedroom window shades. Keep unwanted sunlight out of your bedroom at any time of day, and guarantee a good night's sleep with made-to-measure fittings. Smart motorized Lutron shades can even operate on a timer, waking you with bright beautiful sunlight instead of a blaring alarm sound.
Motorized Sheer Shades
Sheer shades diffuse sunlight rather than blocking it, and this gives a totally different effect. Lutron shades built with sheer materials are a great choice when you want your property to be well-lit and comfortable during the day. They create an enticing ambiance that's ideal for living rooms and kitchens that need motorized shades in Cupertino. With sheer material, remote control Lutron shades are a very popular choice for exactly this reason.
Your Source For Lutron Shades in Cupertino
There's no limit to what our customers can achieve when they choose to install custom Lutron motorized shades. These window coverings come with free consultations that help you decide how to create the perfect system. Our Cupertino expert Lutron motorized shade installers will guide you through the process, and provide free estimates on our whole range of custom window coverings. Use our online system to schedule a free estimate appointment, or simply give us a call today.