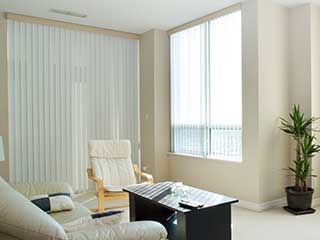 Cupertino home and business owners have a low cost, high-quality option for wall-window and sliding door blinds. With larger surface areas, you need more than the regular shading solution for optimal benefits. Cupertino Blinds & Shades produces custom vertical blinds to your specifications, and we offer the services of our professional interior design team to help at no extra cost!
What Are Vertical Blinds And Where Do You Use Them?
Vertical vanes run up and down across the windowpane, and are mounted on a frame or roller set that slides left and right. This makes them the mirror of the more common design with horizontal panels and a rising frame. Vertical blinds for windows with more length than height (such as wall or picture windows) are much more secure and easily moved than horizontal ones. These treatments also offer good, unobstructed protection for glass or screen doors. Vertical blinds on French doors or sliding doors keep out sunlight and the gaze ground level passerby and can add to the aesthetics.
Custom Blinds Options
Our vertical window treatments come in every color you can think of, and you can have us make them from your choice of materials. Vinyl, aluminum, and wooden blinds all have their merits and limitations. During your initial visit from our Cupertino vertical blinds experts, they'll help you decide which is best for your situation. You can also have us install your vertical blinds with curtains or other additional layers and treatments. Some thin fabric curtains or solar shades make a great combination with rigid, blackout style blinds!
Vertical Blinds For Your Cupertino Office Windows
Workplaces are at least as likely as houses to have long, wall-length windows. That's why you can often find vertical blinds in commercial office spaces. The contents of an office room can also be very sensitive to harsh sunlight, especially if it contains computer screens or reflective desk surfaces. If you have a waiting room whose benches face an east or west-facing window, you'd better have a covering for it! Give us your commercial address, and we can get to work on vertical blinds installation for your office.
Remote Control Motorized Vertical Blinds
With the press of a button, you can open, close, or swivel a set of motorized vertical blinds all the way across the room. In case that convenience wasn't enough, we can upgrade your motorized blinds with a computer or sensor system. Now, you won't have to worry about remembering to adjust your remote control vertical blinds every morning and evening. Add in the sensor option, and your blinds will even react to changing weather! You can also choose Wi-Fi connectivity, to allow your motorized vertical blinds to communicate with Google Home or Alexa.
Free Estimates At Your Cupertino Home/Office
Before every order of custom vertical blinds or other window treatments, comes a visit from our consultants. We'll give you a quote as well as advice, and show you a wide range of samples and features. Our vertical blinds specialists will help you balance cost, aesthetic preferences, and structural needs, with a professional's eye for decoration scheme and matching the blinds to the room. We live by good word of mouth, so ensuring customer satisfaction is in our own best interest!
Get New Vertical Blinds Custom Made
Want to get new vertical window treatments custom made at an affordable cost? Our team here at Cupertino Blinds & Shades provides our services everywhere in and around the San Francisco bay area. Give us a call, and get a free quote on the best custom made vertical window blinds near you!