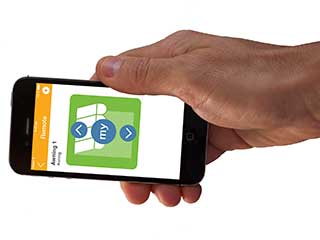 The big benefit of motorized shade systems is that they bring a whole lot of convenience to your indoor or outdoor spaces, and make it easy to cut out unwanted sunlight. Somfy motorized blinds connect easily to smart home systems and apps, so you can control them with your smartphone. That's not the only way to control Somfy motorized blinds, though, and wall switches, dimmers, and remote controls are all available. This makes it incredibly easy to switch from a dark, cool atmosphere to a much warmer and brighter one with just a press of a button. All of this is completely up to you, as well, and you can decide on exactly what controls will work best in your business or home. As the leading Cupertino Somfy blinds installers nearby we happily provide consultations and free estimates to all customers.
Stylish Motorized Blinds
Lots of people are used to the attractive style of motorized Venetian blinds, and we can't disagree! They work really well in office spaces and in lots of different residential properties. Motorized vertical blinds are great too, and are often used to cover up large window walls. The real advantage of motorized Somfy blinds is that they take classic styles and enhance them using advanced remote controls. Sensors for brightness and temperature make maintaining a comfortable interior atmosphere really easy.
Rolling Somfy Motorized Shutters
Motorized rolling shutters are a really good addition to lots of property types. These are effective for cutting out unwanted sunlight, and the rugged construction materials also bring a lot of additional security. Remote control handsets and wall switches let you easily close the shutters at night and open them in the morning, so your home is easy to keep safe and comfortable.
Outdoor Motorized Somfy Shades
It's really easy to add motorized shades to decks, pergolas, and patios, providing lots of protection from UV radiation. Where Somfy motorized shade systems shine is in how versatile they can be. Motorized awnings are an ideal way to extend the shade that patio covers provide. Pergola screens, motorized, offer an easy way to get even more protection from sunlight. All of this combines to ensure that your backyard is a comfortable and enjoyable space to spend a lot of time in. Somfy offers the best choice when it comes to high-quality custom decking, patio, and outdoor lounge shade solutions.
Top Somfy Blinds Installers in Cupertino
Our experienced team is ready to help you out. There are a lot of options to pick from when you explore the full motorized Somfy blinds and shade range, but we're always happy to provide advice. Our consultations and personal estimates always come free of charge, and you can easily get the best prices near you. Looking for affordable custom-made Somfy blinds in Cupertino? Start with a free consultation!