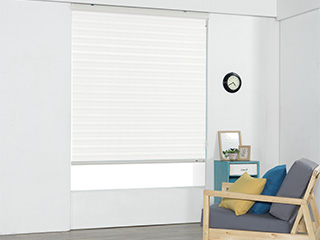 When taking the time and making the effort to get brand-new window treatments for your home or business, consider roller shades. While not the most elaborate or extravagant option, roller shades, motorized versions especially, give you convenient and effective window covering methods. You can get the roller shades made in sheer or blackout variations, making them suitable for all sorts of décors and needs.
Motorized Roller Shades for Your Cupertino Home
Why continue to bother with adjusting your window coverings manually? New age technology has arrived and can help you automate this aspect of your residence or business. Motorized roller shades will erase the need for pesky strings that can get caught, or cause your treatments to go cockeyed. Instead, you can use a remote control to open or close your motorized roller shades from the comfort of your bed! Would you rather have the system operate automatically? Wall sensors are also available. These temperature or brightness sensors make your motorized roller window coverings move according to given parameters. You can use a smart device as well. That lets you remain in control with an app that will let you adjust them from anywhere! With motorized roller shades that connect to your home Wi-Fi network, you can easily control indoor illumination remotely.
Eliminate Glare Blackout Roller Window Shades
One of the most irritating things to deal with while trying to enjoy TV, or any other device, is glare disrupting the screen. Regular window coverings may not be enough to properly block out light when needed, but our blackout roller shades are! You won't need to concern yourself any longer with struggling to see screens in the living room, bedroom, or otherwise! Blackout roller shades are great for Cupertino offices as well. They offer great shading solutions both for privacy and for creating an easy work environment. That way you can completely get rid of computer screen glare.
Gorgeous and Light Sheer Roller Window Coverings
Why settle for either utility or beauty with your new window treatments, when you can have both in one? Sheer roller shades help keep your furniture safe from sun bleaching. This is sure to happen over time when exposed to direct UV rays frequently. Sunlight also causes the temperature to fluctuate in homes, which wastes a lot of energy. However, the sunlight that comes through your new sheer roller shades will have reduced heat. That'll allow you to have natural light without any problems. Sheer roller shades work excellently in many Cupertino living rooms, bedrooms, kitchens, and more!
Custom Roller Shades Installed Quickly
Turnaround stays short because all our products are manufactured in the US. Cupertino Blinds & Shades is happy to provide free consultations to every bay area customer. We'll work with you to determine the best style of roller shades or other window blinds for your needs, both in budget and aesthetic. It's surprising what a huge difference new window coverings can make. Learn more about the customizable and diverse options by scheduling a free consultation at your Cupertino home or business.