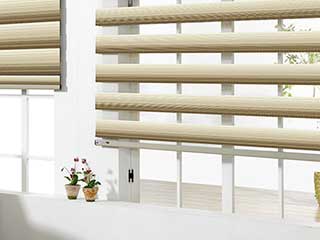 Looking to improve your home with an elegant and unique new look, you may want to consider wooden window treatments as a style that's certain to impress. While that's true, real wood blinds also require lots of attention and can prove costly. That's why Cupertino Blinds & Shades has another option that looks as good but won't take up plenty of time with maintenance! Our custom-made faux wood blinds are a gorgeous way to spruce up any room and are more affordable as well.
Why Consider Faux Wood Window Blinds?
Before you jump into adding new real wood treatments into your household, it's important to understand all the factors. They are indeed lovely and have their unique wood grain to create an eye-catching look, but they're also at risk for moisture damage. Areas with significant humidity, in particular, put wooden blinds at risk of swelling, and other harm. This means that real wood coverings require treatment against moisture now and then. Cleaning them also requires careful, certain techniques to keep them in good shape. However, our waterproof faux wood blinds mean you won't need to concern yourself with any of these issues! The aesthetic of real timber is there but without the hassle. This lets you introduce elegance to the room without having to then contend with special upkeep needs.
Cupertino's Top Faux Wood Window Treatments
Cupertino Blinds & Shades provides free consultations and will walk you through every step. From picking out the material for your new faux wood blinds to choosing the imitation wood stain that best complements the room. Your faux wood blinds will sport surprisingly light and flexible attributes. This is thanks to the vinyl, PVC or other flexible material they're made from, depending on your preference. This is especially noticeable when compared to heavy real wood, which may splinter rather than bend. One of the main benefits of faux wood blinds is lightweight. Their fixtures don't need to support a particularly heavy weight and therefore tend to last longer.
Faux Wooden Blinds Suit Kitchens Beautifully
Add some style to your bay area kitchen in one easy step with faux wood window coverings! Wood will bring a natural and welcoming feel to the room, but without the risks that would come with real wood in a kitchen area. Liquids and oils for cooking could splash, and cause harm with actual timber. However, when you choose faux wood blinds for Cupertino kitchens, there's no need to worry. Not only will they stand up against all this, but if they do get hit with anything, you'll be able to clean them easily. Wipe them down, and you're done!
Custom Made Blinds for Cupertino Customers
When you come to our experts for your faux wood blinds, you know you'll be getting treatments that perfectly fit your windows. We measure each window and create the blinds according to their specifications. That means no gaps around the outside for light to creep in! Your gorgeous, custom faux wood window coverings will be sure to wow visitors and will work excellently as well. Call us to set up your free consultation, and you'll also receive a free estimate as well! Your home will look fresh and new before you know it.