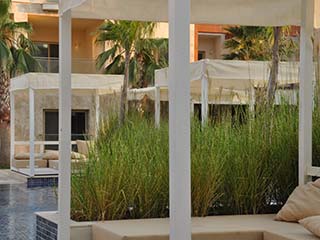 Patios, decks, and courtyards are much more livable with some good overhead shades. Besides making the patio more comfortable, these covers will protect your outdoor furniture, flooring, and whatever else you want to put out there. Motorized patio covers come in a lot of styles and structures, including the following. With smart wireless remotes and Wi-Fi smartphone connectivity, you can add motorized patio shades, canopies, and awnings to Cupertino outdoor lounge areas, backyards, and more. Finding the best outdoor shading solutions for your needs can be fun when advised by professionals. Our local motorized patio cover installers can help you find canopies, pergola screens, and outdoor shades perfect for all sorts of needs.
Sail Shades For Cupertino Decks And Patios
For porches and decks with unusual shapes, we can tailor some sail shades to fit. Sail shades are simple, taut canvas sheets that stretch between the nearest wall and some attachment points. You can attach the leading edge of the sail shades to fences, posts, or purpose-installed frames in the case of larger patios. If you have enough overhead space to work with and a more or less rectangular space, you might prefer more substantial awnings.
Manual & Motorized Awnings
Awnings are supported by frames that jut out from the side of the building over the space you need covering. Depending on the style, these shades either roll open and shut along a static frame, or fold up entirely when you lower them. Crank or hand-pulled awnings are some of the most traditional patio covers out there, but nowadays motorized awnings are more popular. Like all of our motorized patio covers, awnings work with a range of remote control and battery systems from trusted manufacturers.
Freestanding Patio Covers
Not every deck or patio sits right up against the side of a building. Sometimes, you might have a space further away from any existing structures that need shading. Freestanding patio shades can be anything from light pavilions to complete outbuildings in their own right. The heavier types of freestanding patio shades easily benefit from automation. Motorized patio shades require a little more engineering to work well away from a building, but with well-insulated batteries or power lines, it's more than doable! Alternatively, you can go the opposite route and choose a popup canopy tent style of shades that trade power for movability.
Customize Motorized Patio Shades For Your Cupertino Backyard
You get much better security for your patio furniture and other delicates by choosing motorized awnings or shades. If you're running a commercial establishment or often have children in your residential yard, motorized patio covers let you adjust to changing needs throughout the day immediately. You can even go one step further than this and connect your motorized patio shades to a digital assistant or smartphone app. Forget to adjust your patio shades in the morning? You can fix that from across the city, or even across the world if need be, as soon as you remember!
Popup Canopies and Patio Tents
Patio canopy tents are the other solution to covering very large spaces or ones without nearby structures to hang awnings or sail shades from. These large tents include an overhead cover and anywhere from one to four sides, letting the others remain open or be occupied by adjacent walls. Patio covers are a low-tech option with a ton of aesthetic value, and most are also movable!
Custom Motorized Patio Covers – Free Estimates
Finding the best option for your needs doesn't need to be complex. With help from our Cupertino motorized patio cover designers, you can easily go through the variety of choices to find anything from awnings to canopies that feel right for you. Custom-designed patio shades and covers are at affordable prices and with free consultations and estimates. Contact us and set up a free appointment!