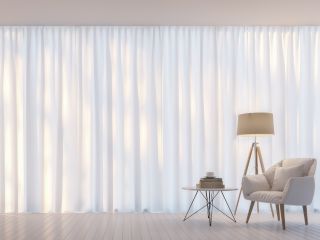 Are you looking to enhance your living space with the timeless charm and functionality of curtains and draperies? Cupertino Blinds & Shades is your go-to destination for an extensive range of window treatment solutions, including exquisite draperies and curtains. Our Cupertino-based company takes pride in offering high-quality window fashion, expert installation, and invaluable advice to transform your interiors. Discover the myriad benefits of choosing draperies and curtains over other window treatments.
Why Choose Draperies and Curtains from Cupertino Blinds & Shades?
Wide Range of Selection: Cupertino Blinds & Shades offers an extensive collection of curtains and draperies that cater to every taste and style. Whether you're looking for classic or contemporary designs, our range has something for every aesthetic.
Expert Installation: Our team of seasoned professionals ensures the perfect installation of your curtains and draperies, making sure they look and function flawlessly in your space.
Motorization Expertise: We provide cutting-edge motorization options for your window treatments, partnering with industry leaders like Somfy and Lutron. Experience the convenience and elegance of automated window coverings in your home.
Free Consultation: Cupertino Blinds & Shades offers complimentary consultations to help you choose the right curtains and draperies for your space. Our experts will guide you in making informed decisions that align with your aesthetic and functional requirements.
Residential and Commercial Solutions: Whether it's your home or business, indoors or outdoors, we have the perfect draperies and curtains to suit your needs. Our versatile selection covers all types of spaces and applications.
Comparing Draperies and Curtains with Other Window Treatments
Curtains and draperies offer numerous advantages over alternative window treatments:
Elegant Aesthetic: Draperies and curtains bring an air of elegance and sophistication to any room, making them a timeless choice for interior decor.
Light Control: Curtains and draperies offer versatile light control options, allowing you to customize your indoor ambiance to your liking.
Insulation: Draperies, especially blackout curtains, provide superior insulation, helping to maintain comfortable indoor temperatures and reduce energy costs.
Privacy: Enjoy enhanced privacy with our wide range of draperies, ensuring your space remains a private sanctuary.
Sound Insulation: Draperies also serve as effective sound insulators, creating a quieter and more peaceful environment.
Explore our selection of black-out curtains, window curtain ideas, curtain panels, Roman curtains, and more. Our expert team can guide you on how to measure for curtains, where to hang curtain rods, and provide advice on customizing your window treatments to perfection.
Get Started with Cupertino Blinds & Shades
Discover the unparalleled beauty and functionality of draperies and curtains with Cupertino Blinds & Shades. Contact us today for a free consultation and installation service that will transform your living or working space. We're your local curtain store near Cupertino, and we're dedicated to helping you create the perfect window treatments.