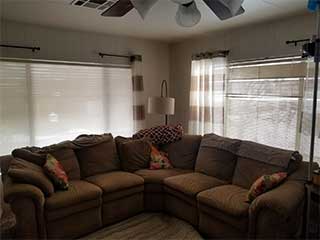 Welcome to the product page for our made-to-order Venetian blinds! Here, you can learn more about this type of window treatment, and how to get the most out of our design and installation services. We offer the largest array of Venetian blinds options in Cupertino, and at some of the best prices! From wooden vanes to metal or faux wood blinds, we let every customer choose the features they prefer for their custom made window treatments. You can get excellent shading with Venetian blinds, and the variety of customizable options make them perfect for all sorts of bay area properties.
The Best Of Both Worlds
The name "Venetian blinds" is somewhat misleading, since these window treatments are more like a hybrid between blinds and shades. Like true blinds, they cover their windows using parallel rectangular panels made of a rigid or semi-rigid material. Unlike other blinds though, they don't have a solid frame to set the panels in. Instead, Venetian blinds slats hang down from the top of the window on a system of cords, making them flexible and free-moving like curtains. These window treatments are very quick and simple to manufacture, as protective as framed blinds, and take up less space than most of the alternatives. Depending on your choice of materials, Venetian blinds can also be lighter and easier to open than most other options.
Choose Venetian Blinds Styles And Materials
Before you make an order from Cupertino Blinds & Shades, we give you a free consultation appointment and quote. Our interior design team will help you design exactly the set of Venetian blinds your room needs. Are we talking about a bedroom that needs darkness and privacy? Some blackout Venetian blinds with interlocking wood or composite slats might be what you want. Need some functional, unassuming blinds for an office environment? Metal or subdued vinyl panels are more like it! Everything from the material and color of the Venetian blinds to their structure and control mechanism is up to you. Our consultants are always happy to make suggestions and explain the pros and cons.
Horizontal And Vertical, Motorized And Classic
Most blinds and shades open upward, retracting toward the top of the windowpane. Venetian blinds for windows with the common, upright rectangle shape work like this, with their panels hanging across the window horizontally. For longer windows or glass doors, you might be better off with vertical Venetian blinds. Made of the same materials as the horizontal kind, these blinds' panels hang down lengthwise from a pole-mounted at the top of the window. There's also the critical choice of hand-drawn blinds with drawcords or motorized ones. Motorized Venetian blinds are safer for children, due to the lack of dangling strings, and a big-time and effort saver. If you choose an automatic set, our Cupertino installation service will take care of the wiring and setup!
Colors And Textures For Venetian Blinds
Pristine white Venetian blinds are a great choice for dining rooms, patio windows, and bathrooms. Pastel-colored blind slats work best with painted wood, colored vinyl, or by adding a fabric lining. If you want metal ones, but are worried about rust, aluminum is both waterproof and extra lightweight! Faux-wooden Venetian blinds have all the aesthetic value of wood but are cheaper, lighter, and in some cases less brittle. There are too many options to list them all here. Get in touch with us, and we can go through the Venetian blinds laundry list systematically!
Venetian Blinds For Any Cupertino Customer
We're always ready for a new custom order of Venetian blinds or any other type of window treatments. Call our number, and set up an appointment at any local address today! You can get motorized blinds, blackout or sheer and even faux wood or real wood treatments made at truly fair and affordable prices. See all the options with an in-person consultation.