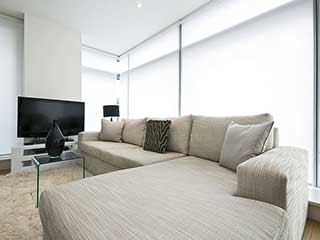 Order yourself a set of custom made motorized blinds for any window in the Cupertino area! Our vertical, blackout, and Venetian blinds, can all enjoy motorized variations utilizing Wi-Fi, brightness sensors, Bluetooth and more. Our motorized blinds and automatic window treatments bring a customer-centric design process to the San Francisco Bay Area. With our affordable products & services, you too can enjoy electric blinds and window shades at your home or work.
What Are Motorized Blinds?
Any blinds, shades, or other window treatments with electric openers are motorized. In the last century, motorized blinds were mostly a luxury. With the advent of miniaturized smart devices and Wi-Fi, they're now an invaluable property management tool! Sensors and programmable timekeeping systems let you set your motorized window treatments to open and close themselves when the climate calls for it. Never worry about sunlight getting onto your delicate furniture again! With Wi-Fi connected blinds, you can also adjust your window coverings from your smartphone without being home at all! Motorized blinds with remote controls make life easier and less stressful for any property owner. In the long run, they can even save you money on heating, cooling, and furniture repair costs.
Cupertino Custom Motorized Blinds Design And Installation
Our interior design consultants provide free of charge estimates. Make an appointment at any Cupertino or nearby address. Get our professional input on structure, styles, colors, and expense saving. You'll get a free estimate on any motorized window treatments you might be considering! Our custom motorized window treatment production, delivery, and installation services all come in one inexpensive package. If you ordered motorized blinds with advanced remote controls like Lutron products, we include programming and setup in the installation.
Electric Blinds For Your Home/Office
You can make motorized window coverings out of all sorts of materials. Our inventory is diverse, and we get the supplies from the best companies in the market! If you're interested in motorized roller shades, some Somfy solar or blackout sheets can give you any effect you want. Want each set of motorized vertical blinds to adjust themselves throughout the day? Our smart house networks from Lutron can make them do that! Tell our consultants what you want your motorized blinds or shades to do, and they'll advise you on the parts we can use for them.
Types Of Motorized Blinds
Any window treatment made out of rigid panels that can turn in place is a type of blinds. Most blinds have horizontal panels that stretch across the window pane lengthwise. For longer windows or glass doors, you'll want vertical panels that move left and right on wheels or tracks. We can hook an electric opener up to any of these styles. Motorized vertical blinds, in particular, save a lot of wear and tear, and motorized blackout blinds are the best sunlight protection on the market. Cupertino Blinds & Shades is flexible and creative in our motorized blinds designs. If you can imagine it, we can probably find a way to build it! Below are some of the most popular styles.
Motorized Venetian Blinds
These blinds' have slats that hang from a system of cords rather than being attached to a frame. Motorized Venetian blinds are easy on their motors thanks to their light weight and flexibility. Unlike with most blinds, you can also pull them back by hand to have a look out the window without raising them. You can choose wood, aluminum, or vinyl panels for your motorized Venetian blinds sets. They also come in both vertical and horizontal orientations, so you can choose this style for windows or glass doors of any shape.
Remote Control Blackout Blinds
These blinds have slats made of light-proof materials that fit together without any cracks when closed. Motorized blackout blinds can shut out 100% of the sunlight that hits the window, and make an impervious wall against prying eyes. With the touch of a button, they can also rotate to let in filtered sunlight, or slide away to leave the windowpane clear. These blinds make a great combination with other, lighter motorized window treatments, such as solar shades or curtains. They're also the best choice by far for bedrooms and galleries.
Automatic Roller Shades
Blinds aren't the only motorized window coverings in the world. If space is an issue, or you prefer a lighter touch, our Somfy fabrics on motorized rollers might be more your speed. Try solar shades, that let in light while bouncing off the worst of the glare and the harsher UV rays. Or some decorative satin or wool sheets with colorful patterns. If you want to insulate the room extra well, we also provide cellular blinds with tubing that prevents unwanted heat loss and gain.
Free Estimates on Custom Motorized Blinds
Automatic window blinds are becoming the norm rather than the exception. Take advantage of the top-tier motorized blinds services we offer to Cupertino and nearby areas to learn more. Call us and set up your in-person free consultation appointment. Learn about all the blinds motorization options we offer and customize the features you like for your local business or home.